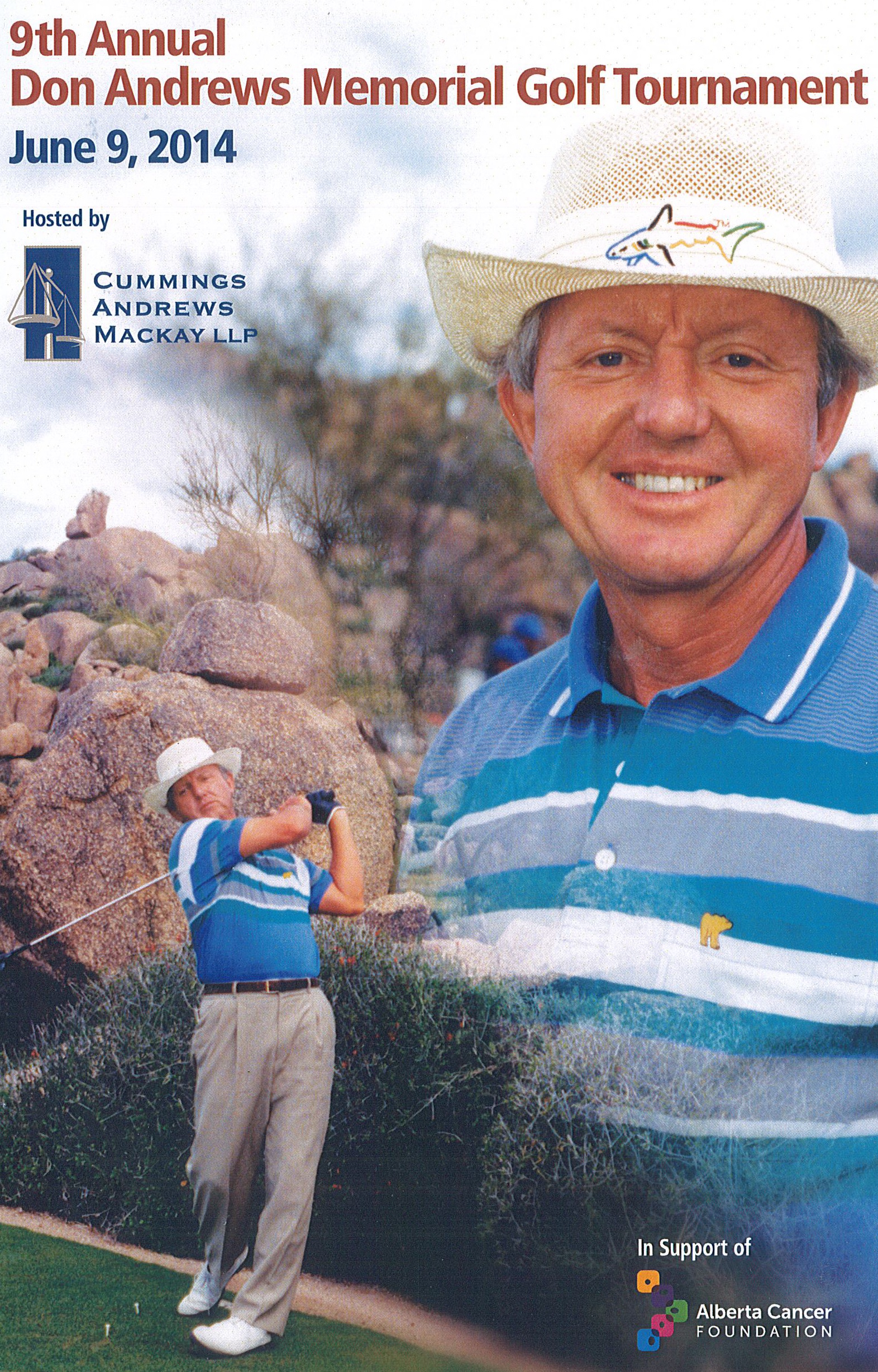 We just finished another Don Andrews Memorial Golf Tournament – the 9th Annual to be precise.  While it started off wet, it finished amazingly.  As usual, all of the sponsors, volunteers and supporters made the day a great success.  Special thanks to McKellars, Brain Care Centre, Canadian Paraplegic Association (Alberta), Southwest Edmonton Farmers Market, Anderson Associates Engineers, Canadian Progress Club, Investor's Group, economica, Pioneer Press, The Tegler Foundation, PDQ Mechanical, Chomicki Baril Mah LLP, Fat Franks, Northgate Chevrolet Buick GMC, Sunrise Bakery, Graham Ryan Consulting Engineers, and Plains Insurance.
To the Volunteers who come out to help year after year, we cannot thank you enough. To all of the supporters – thanks again!
Tournament Chair, Bill Hendsbee, described Don as follows:
For Don Andrews the glass was never half-full.  It was always filled to the brim. His limitless optimism and generosity of spirit were apparent to all that knew him. Whether working, relaxing with friends or raising funds for various charities, most notably the Cross Cancer Institute's annual golf tournament and his beloved Progress Club, Don was known for his positive attitude and his ability to enjoy life and the company of those around him.  This enthusiasm for life served him well, as he found himself constantly in the company of friends, as all who knew him were quick to fall into this category. His positive outlook also carried him with uncommon grace and dignity through his own battle with cancer, as he continued to demonstrate an extraordinary ability to enjoy what life had left to offer. Don was a gentleman in the truest sense of the word.  We are fortunate to have known him.
As you can imagine, we tipped back a glass or two in Don's honour on Monday.  Maybe, just maybe, it was Don that put in a good word for us as the rain halted 6 holes into the round and we could truly enjoy the wonderful Edmonton Country Club Golf Course.  It was a great day!