No one wants to be involved in a car accident, especially if the accident results in an injury to you or a passenger in your vehicle. Unfortunately, accidents do happen.
In 2013, over 165,000 Canadians were injured in a car crash and 1, 923 of those injuries resulted in death (Transport Canada Collision Statistics, 2015).
A car accident can result in more than just physical injuries, it can evoke an emotional whirlwind of stress responses, including shock and panic. Some Canadians describe experiencing the inability to think clearly after a car accident, which can heighten the sense of panic over what to do next, who to call, and what information to give to the other parties involved.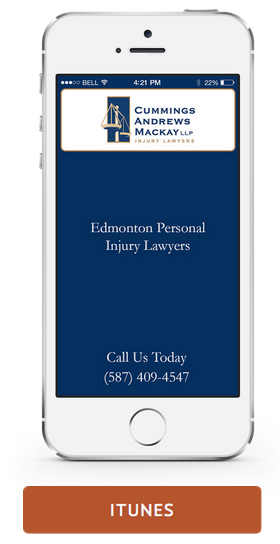 Today, modern technology gives Canadians the tools to be prepared in the event of a car accident, so they can find help in the palm of their hand. The Edmonton personal injury lawyers at Cummings Andrews Mackay LLP teamed together to create an app that provides assistance when a car accident occurs.
As soon as an accident happens, open the CAMLLP Auto Accident App and find:
A to-do list of next steps
Information gathering tools
An emergency service locator
FAQ time-saving forms, and more
Now Canadians can feel confident that they've collected the right information after an accident and can find help when it's needed.
The app is simple to download and easy to use. Find out more about the Auto Accident App.