As an Edmonton personal injury law firm, Cummings Andrews Mackay has represented a large number of clients who have been injured in motor vehicle accidents. The injuries our clients have suffered are as varied as the mode in which each accident has occurred, ranging from rear-end collisions and ATV accidents to head-on collisions and being struck as a pedestrian.
For the public, it might be surprising to learn what types of car accidents are most common within the city of Edmonton and surrounding communities within Alberta. To explore this topic further, Cummings Andrews Mackay researched all available public facing information, primarily through the Alberta Police Report, and compiled a list of some of the most common types of car accidents that occurred within Edmonton and Alberta in 2015.
Alberta Police Report: Car Accidents in 2015
On October 21st, 2015, the Alberta Police Report reported the 31st traffic fatality of the year within Edmonton.
Highest reported accidents and fatalities: Highway Car Accidents
From the month of June 2015 to mid-December 2015, over 65 fatal motor vehicle accidents between one or more vehicles on Alberta's highway were reported.
Some of the causes for the car accidents include poor weather conditions, poor visibility, alcohol and high rates of speed which often resulted in head-on collisions from drivers crossing the median.
Second highest reported accidents: Fatal Pedestrian Accidents
It may surprise you to learn that the second most common cause for fatality and injuries last year was due to pedestrians being struck by motor vehicles. From the month of June 2015 to mid-December 2015, over 25 pedestrians accidents were reported.
The pedestrian accidents reported varied in location, with some occurring within city and town limits and others along highways. In some instances the victim survived, but quite often the person responsible fled the scene.
Third highest reported accidents: Rollover Accidents
Over 20 rollover accidents were reported from June 2015 to mid-December 2015, of which most sustained life-threatening injuries or fatalities due to not wearing seatbelts and being ejected from the vehicle.
The most common cause for the rollover is loss of control over the vehicle and running off the road into the ditch by semi trucks or large vehicles with a transportation trailer attached.
The number and types of car accidents in Edmonton and surrounding communities may have come as a surprise, but looking into the future, our province is witnessing an overall decrease in the number of accidents reported and has put a plan in place to continue this downward trend.
Alberta's Traffic Safety Plan 2015:
The government of Alberta's office of Traffic Safety produced a 2015 Traffic Safety Plan which indicates a progressive decrease in overall car accident fatalities and serious injuries since 2007.

Traffic Safety Plan 2015 | Alberta Government
The decrease in the number of injuries is a strong indication that drivers from all communities throughout Alberta are taking more precautions and safety measures once they get behind the wheel. It's especially incredible to see the numbers go down when you consider the challenges our province faced last year.
The Alberta Traffic Safety Plan highlights three major challenges that impact road safety as we move into 2016 and onwards throughout the next decade.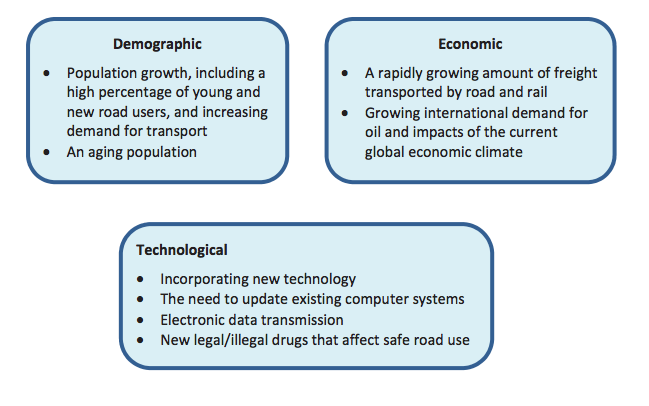 Traffic Safety Plan 2015 | Alberta Government
The current economic climate of the province of Alberta will play a significant role on the demographic and economic challenges traffic safety is up against. As we look to the future, some of the key focus areas for our province will include stronger road safety enforcement, cost-effective road engineering strategies, effective monitoring of drivers and driver safety for transportation freight, and improving education and community mobilization, among many other strategies.
To view the entire Traffic Safety Plan 2015, click here.
Edmonton Road Safety for the Future
As an Edmonton personal injury law firm that represents a large number of clients who have been injured in motor vehicle accidents, it's incredibly important to raise awareness around the issues of road safety and the most common causes for car accident fatalities in the hope of helping save lives.
Going forward in 2016, let's do our part in practicing safer driving by slowing down, taking our time to reach our destination and watching out for everyone else on the road, by car or on foot.
If you or someone you know has been injured in a motor vehicle accident because of the negligence of someone else, contact our team of experienced personal injury lawyers to ensure your needs are looked after.