At CAM LLP we are proud to be good neighbours. Whether it's a local sporting event, charities or community services, community involvement is important to us.
As personal injury lawyers we help our clients recover, often times from serious physical injury. The ultimate goal is to help our clients return to their pre-accident lives, where that is possible. Appropriate access to rehabilitation services is critical for achieving optimum recovery. Our community is fortunate to have access to some truly excellent community-based resources to help injured people recover and come to terms with post-injury life.
We are proud to support a number of these resources. Over the next few months there are some fundraisers for organizations that provide important services to people who have suffered life-changing injuries. We invite you to join us in spreading the word and we hope you'll join us in helping to make sure these valuable community assets continue to service critically injured Albertans.
Spinal Cord Injury Alberta 2018 Resilience Gala
March 2nd, 6:00pm at the Radisson Hotel & Convention Centre, Edmonton, AB
Tickets: here.
Spinal Cord Injury Alberta (SCI Alberta) has been serving Albertans with physical disabilities for over 55 years. Over the decades, they have been working hard for Albertans with spinal cord injuries and other physical disabilities to achieve independence and full community participation with their programs and services that branch into all aspects of life.
In addition to entertainment by Firefly Theatre & Circus, the special guest speaker is Kuen Tang. After her vehicle went off a cliff in 2001 her life changed forever. She became the first quadriplegic female to earn a Bachelor of Education degree, the first to climb Mount Ha Ling (8000 ft), and wheeled the Great Wall of China to name a few of her many accomplishments. Kuen's ultimate goal is to help the disability community to gain confidence and strength to leave their homes and to enjoy life again. She is truly a role model for post-injury possibilities.
Click here for more on Spinal Cord Injury Alberta and the work they do.

Brain Care Centre "Journey of Hope" 2018 Gala Fundraiser 
March 10th, 6:00pm at Chateau Lacombe Hotel, Edmonton, AB
Tickets: here.
Brain Care Centre offers programs and services at no cost to adults (18+) who have sustained an acquired brain injury and their families. The journey for a brain injury survivor is continuous, and never ending. Each day is a new journey with never ending goals. For many survivors, hope helps them to continue their journey.
This years gala theme is 'Around the World' where attendees will experience food, music and stories from around the world for an inside look into the journey of brain injury survivors. Together, we can help brain injury survivors and their loved ones better navigate their way through their continual journey.
Click here for more on Brain Care Centre and the work they do.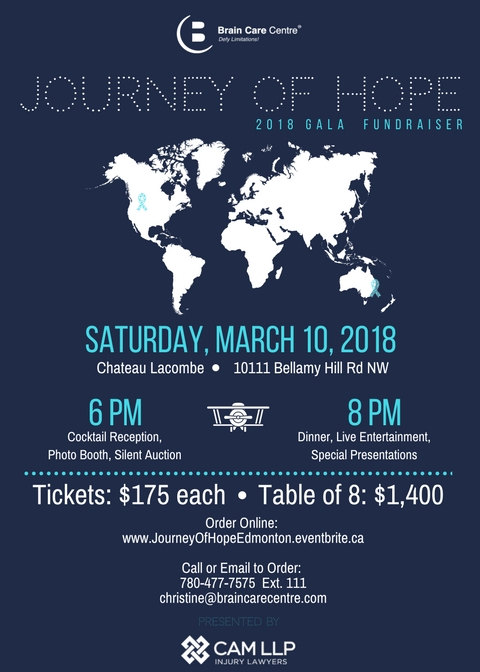 Glenrose Foundation Courage Gala 2018 Fundraiser
April 13th, 6:00pm at the Shaw Conference Centre
Tickets: here.
Glenrose Rehabilitation Hospital Foundation exists to support the enhancement of patient care through innovative technology, state-of-the-art equipment, leading-edge research and valued patient comforts at the Glenrose Rehabilitation Hospital.
This year's theme is 'Wear Your Courage', where you'll step into the lives of Glenrose patients and experience their rehabilitation journeys through the use of interactive art pieces. Your support helps provide patients and their families with access to innovative equipment, programs and technology to improve their recovery, reach their goals and achieve their full potential.
Click here for more on Glenrose Foundation and the work they do.